Empress Hotel
2009 Light/Saraf Films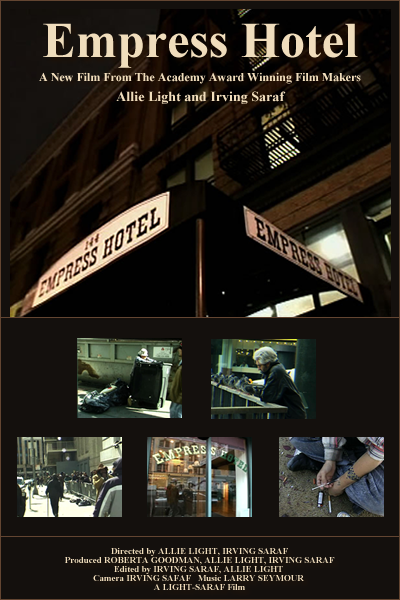 directed by
Allie Light and Irving Saraf

produced by
Light/Saraf Films, Roberta Goodman

cinematographer
Andrew Clark, Irving Saraf

edited by
Allie Light, Irving Saraf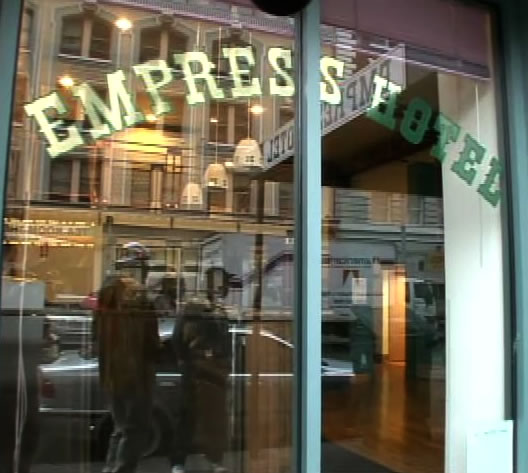 music composed by
Larry Seymour

saxophones/ewi-Tav. piano-Bob Luna. drums-Tal Bergman. bass-Larry Seymour.




media:

Official selection 2009 Nashville Film Festival Sunday, April 19 at 4:30 pm and Monday, April 20 at 2:00 pm.

Official selection 2009 San Francisco International Film Festival Saturday, April 25 at 3:15 pm; Monday, April 27 at 6:00 pm; Wednesday, April 29 at 6:15 pm.
Light Saraf Films
From Oscar and Emmy Award-winning filmmakers Allie Light and Irving Saraf (In The Shadow of The Stars and Dialogues With Madwomen), in partnership with Roberta Goodman, Empress Hotel: Information coming soon.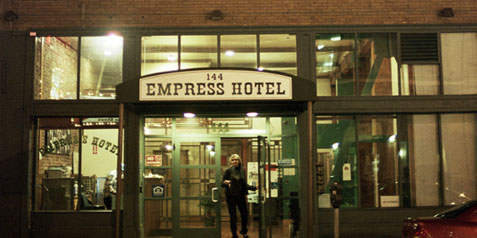 Bay Area Oscar Winners Tackle New Project
Prince, duchess meet with homeless people in Tenderloin
The tenants of the Empress Hotel, a Tenderloin facility established by the San Francisco Department of Public Health to house the recently homeless, come from widely diverse backgrounds. Each resident of these small furnished rooms has a story to tell, including the amateur boxer who has spent years of his life behind bars and still struggles with violent urges, the woman with two masterís degrees who found herself homeless when her specialized area of expertise fell into technological obsolescence, the former publisher who follows the spiritual voices he hears almost to the point of suicide and the recovering crack addict desperate to get her weight to rise above 84 pounds. Local filmmaking duo Allie Light and Irving Saraf masterfully imbricate the residentsí life stories and their daily interactions with service providers and building staff to craft a moving portrait of a building, a neighborhood and all of the lives that intersect within. Light and Saraf won an Academy Award in 1991 for their look at the S.F. Opera, In the Shadow of the Stars, and their most recent film bears the mark of two lifetimes of documentary craftsmanship, perhaps most admirably in its resolute reluctance to sentimentalize the plights of its marginalized subjects as they struggle with mental illness, drug addiction and poverty. The film leaves some of its stories hopefully, others precariously close to despair, but its patron saint, building manager Roberta Goodman, provides the greatest reason for optimism as she tirelessly tries to improve her residentsí lives.

óDavid Gray